How to make your own DIY dried flower wreath
How to make your own dried flower wreath
The days are getting a bit longer now and a bit brighter and it really feels like spring is on its way. It is the first week of February and I can't wait to see the first colours' of spring from our Tulips and Daffodils.
So while we wait for new beginnings for 2022 and settle into some normality with the lockdown restrictions lifting and we head straight back into our busy lives, it is important to take time and unwind and relax and enjoy the simple things. Doing something new and creative like making your own dried flower wreath is a great way of taking time out for yourself or something fun to do with your family which you can then proudly display on your wall or a door. The materials you need are:
· Simple wreath ring (or you can make your own using natural foraged bendy branches)
· Florist wire (this is easily found in local craft shops or online from various stores).
· A mix of dried flowers, grasses and foliage.
· A strong scissors or pliers
Optional: A big steaming hot cup of tea or coffee or a nice glass of red and some chocolate!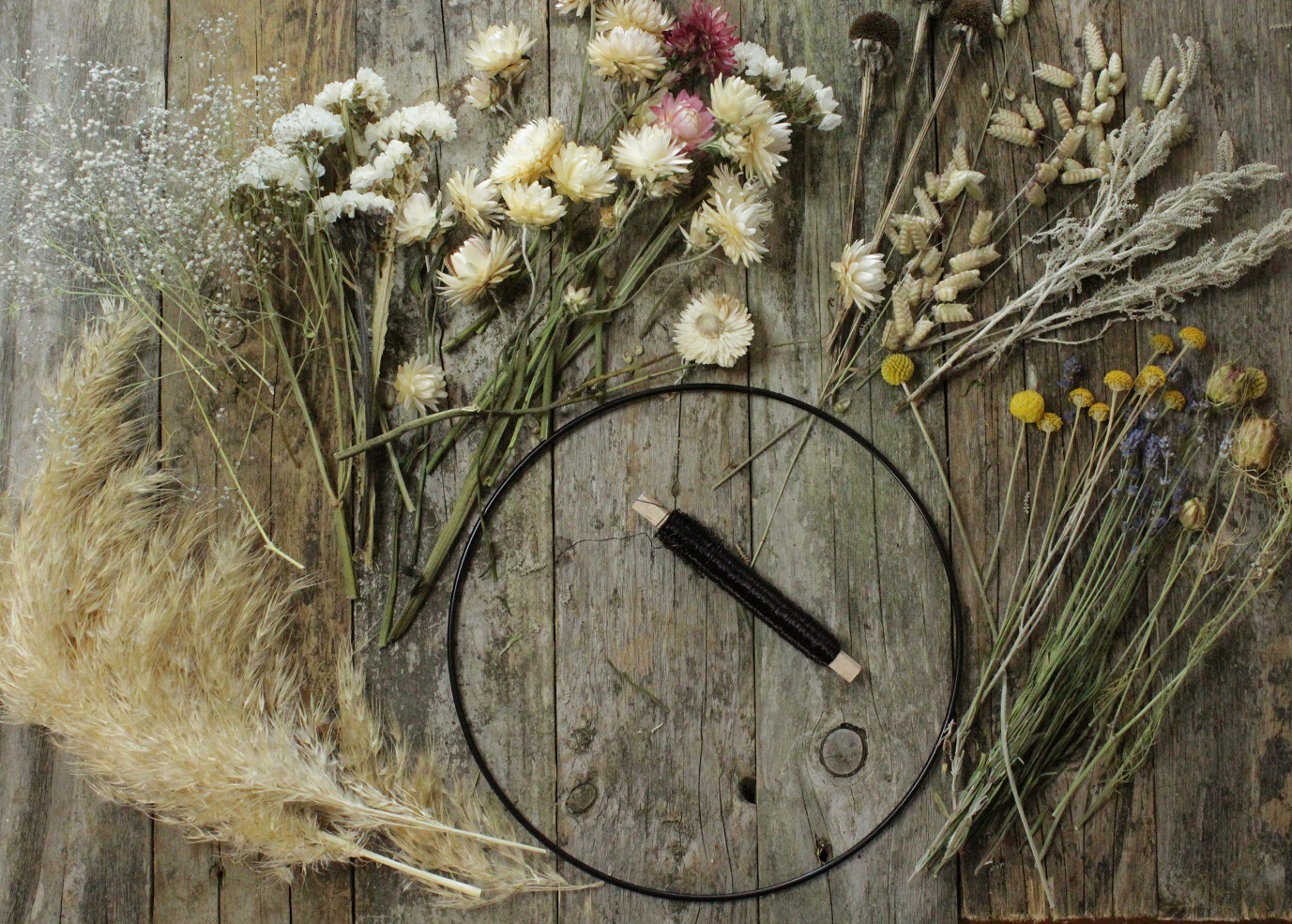 Why dried flowers?
Dried flowers' used to remind me of dusty 1980's floral decorations and not something that I thought of as cool or trendy but dried flowers' are definitely having a moment and I have total appreciation now. Dried flowers' extend the life of flowers and are a very sustainable way of enjoying flowers even in the darkest winter months of the years when blooms and colour are scarce.
I harvested a wide mix of flowers last year and I tried my hand at drying most of them to see what worked and what didn't. Some were a major flop for drying but harvest times, harvest stage and flower variety really do matter when considering drying flowers. Some of my solid favourites are:
- Statice (Limonium)
- Strawflower (Helichrysum) - a special mention for strawflowers is required as they grow into papery magical beauties which I never tire of working with!
- Love in a mist (Nigella) seed pods
- Grasses : Pampas, wild grasses, Quaking grass (Briza Maxima)
- Honesty (Lunaria)
- Baby's breath (Gypsophila)
- Billy Buttons (Craspedia)
- Cotton Lavender (Santolina)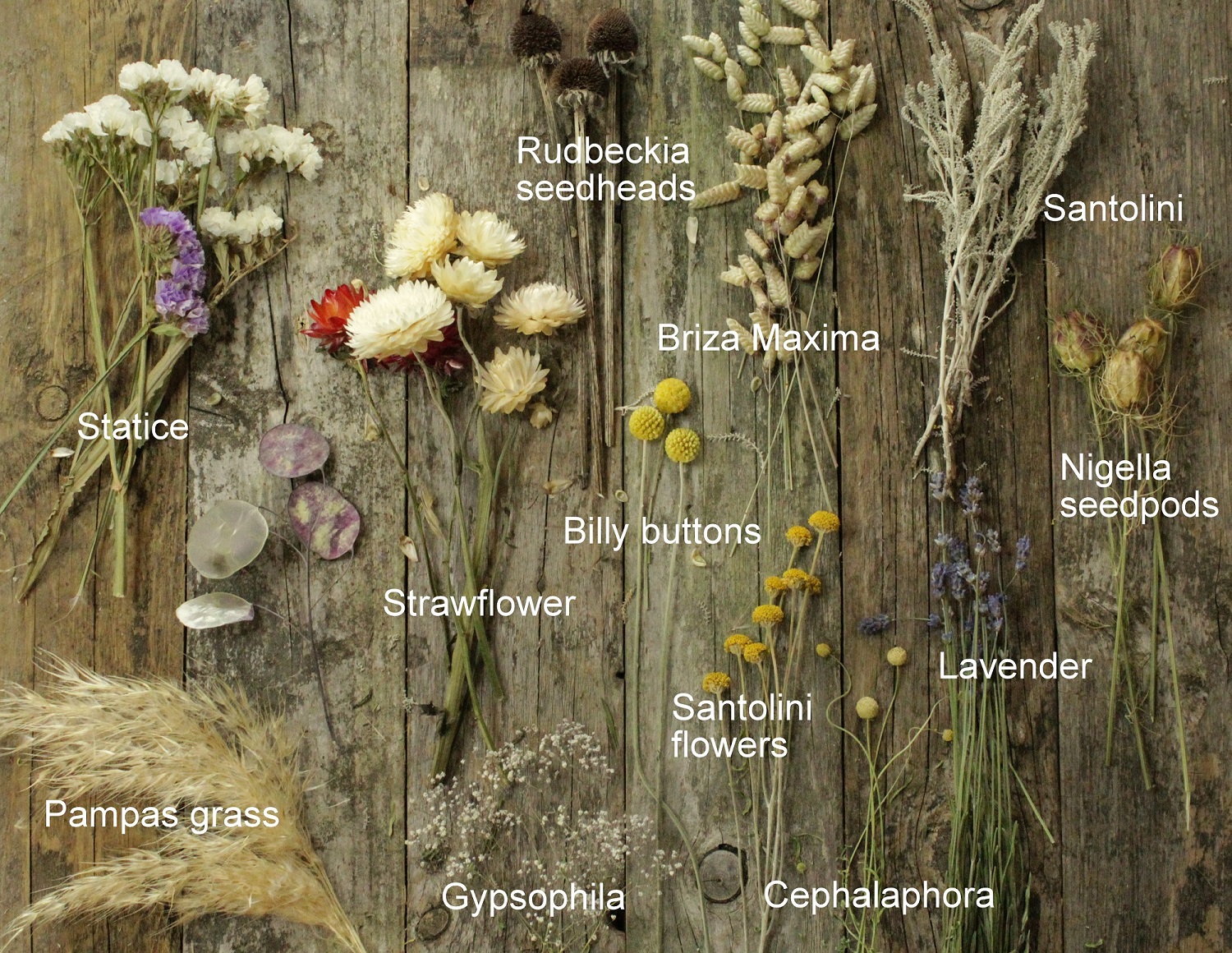 Some flowers dry much better than others but this year, I dried some 'weeds' and wildflowers. Many of our own native plants are overlooked but can be really beautiful when dried. My favourite discovery this year was dock leaf seed heads which dried to a beautiful rich brown. I air dry the majority of my flowers (tying them in small bundles with string and hanging them upside from a ceiling in a dry dark room (in my case our magic odd sock room aka the spare bedroom). To dry smaller blooms, fruit, herbs and confetti petals, I use my reliable Stockli dehydrator and a hanging drying rack which is also super handy and space saving. (You can find the links for products below).
The first step is to just start by laying out all your dried flower materials in bundles so everything is to hand before you start. Consider where you are going to hang your wreath and surrounding colours' and accessories. Then think about what type of design you would like and whether it is a full circular design or a half moon crescent shape. If using a half moon shape, you can tilt it to the right or to the left and add lovely flourishes to either end of your arrangement with longer stem's like Pampas or grasses.
There are two different methods to making a dried flower wreath;
1. Put together several little bundles of flowers, grasses and seed heads and cut to around 10-12cm in length and tie them off. You can follow a set colour pattern or design by simply repeating the same bundle each time. Each bundle is then secured one on top of the other (making sure to place each following bundle over the stem of the previous bundle). This method works great if you like consistency of pattern and uniformity.
2. The method I prefer the most is to add little and individual stems or bundles as I go. I find it easier to adjust shape and colour and add texture in this way and add little pops of interest along the circular design. I also like this method as I can easily add extra little bits at the end if I want.
Whichever method you prefer is completely up to you. If you would like the convenience of just getting everything you need to make a wreath delivered to your door, you can purchase our DIY dried flower wreath kit here on our web shop and follow our linked video to show you how to make your wreath. Our DIY dried flower wreath kits would also make a great gift for someone stuck at home isolating, or as a baby shower gift for an expectant mum who is in the exciting stages of preparing for a new arrival.
All of the dried flowers in our wreath kits are grown from seed, hand in hand with nature and all harvested and dried right here in Co. Wexford. All of our packaging is fully recyclable.
How long will they last?
Dried flower wreaths can last for many months and even years if they are properly cared for. To keep them at their best, they should be hung in a cool, dry place, away from moisture and humidity and out of direct sunlight. As with all natural things, their colour will fade over time.
Amazon Dried Flower hanging rack